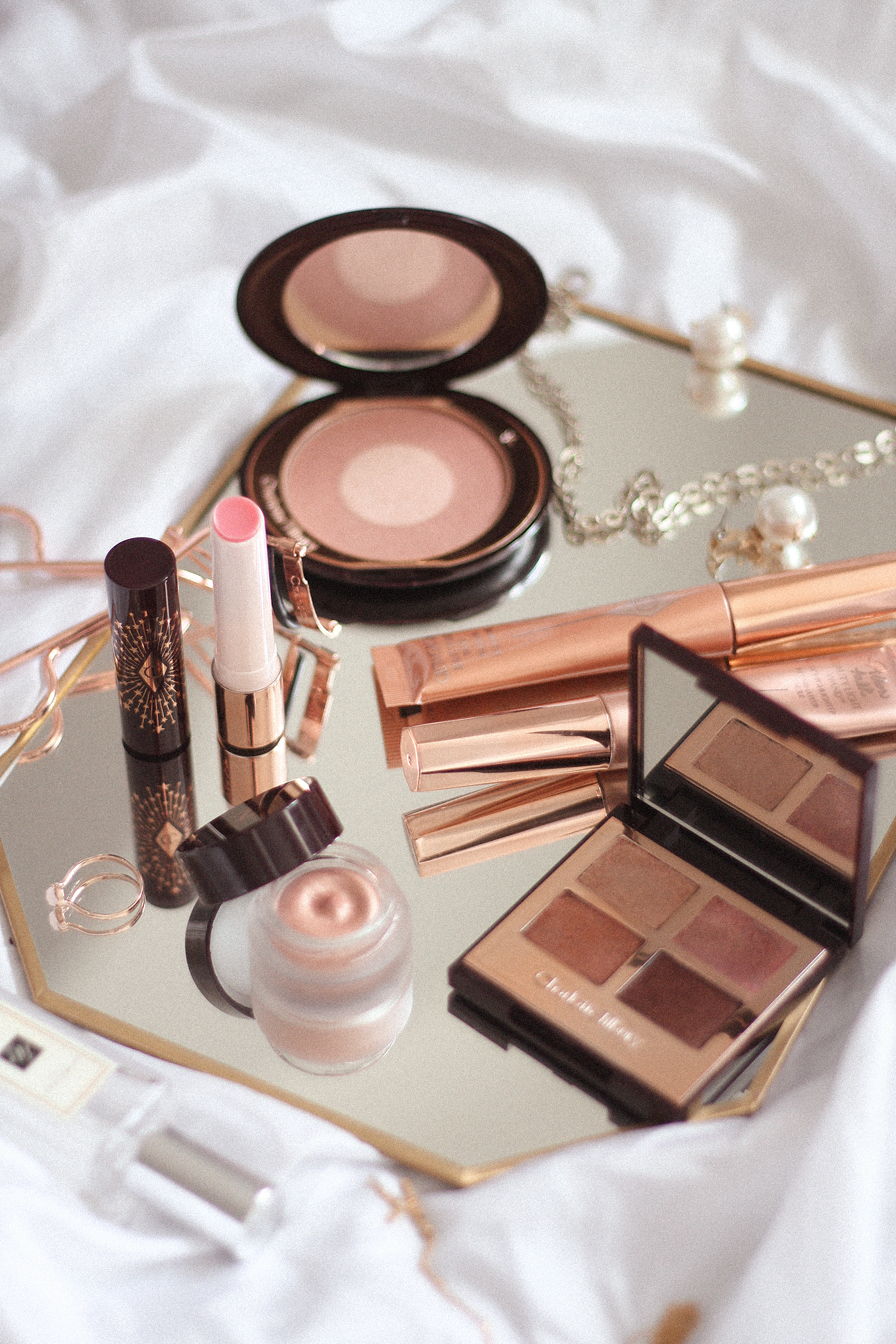 It's Valentine's Day this Sunday, and whether you're planning a home-cooked meal with your significant other, a zoom call with the girls or a night in front of Netflix, it's nice to have an excuse to pamper yourself with some beautiful products. No one does dreamy, romantic make-up quite like Charlotte Tilbury so I thought I'd share some of my favourites from the brand!
Eyes to Mesmerise in Rose Gold. I love this so much I'm on my second pot! I have a few of the Eyes to Mesmerise shades but Rose Gold is by far my favourite. It's a beautifully smooth and iridescent cream eyeshadow that looks amazing on it's own or layered underneath powder products. Simply pop some on the lid with a flat brush or your finger (a little goes a long way) and you're good to go.
Luxury Eye Palettes in Pillow Talk and Pillow Talk Pops. Pillow Talk is one of my favourite Charlotte Tilbury palettes; the colours are super wearable and look amazing on all eye colours. A few years back she also released a 'Pops' version, which is a palette of gorgeous, pink-hued glitters. Both products are perfect for soft, whimsical eye make-up – especially when paired with the Rose Gold Eyes to Mesmerise.
Beauty Light Wand Cream Blush. I never used to be a fan of cream blush until I discovered Charlotte's Beauty Light Wands – they blend beautifully and provide the perfect flush of colour. My favourite shades are Peachgasm (a subtle coral) and Pillow Talk Original (a flattering nude pink). Apply as little or as much as you like!
Cheek to Chic Blush in Pillow Talk. I'm a fan of all of Charlotte's powder blushers but Pillow Talk is by far my favourite. A soft pink paired with a stunning champagne highlight, it's universally flattering and compliments any make-up look (there's also a Pillow Talk Intense if you have a deeper skin tone). I love blush so I have no problem layering this on top of my Beauty Light Wands for a more intense colour.
Hyaluronic Acid Crystal Happikiss. Charlotte released these gorgeous balms very recently and they're perfect for Valentine's Day. First of all, I love the packaging (the stars are reminiscent of Hedy Lamarr's celestial costume in Ziegfeld Girl). Secondly, the shade range is beautiful – I have Crystal Happikiss, which is a sheer nude. These are great if you don't fancy wearing traditional lipstick and want something a little lighter – at least they won't end up on your chin after eating/drinking/kissing! They're super hydrating, too.
Are you a Charlotte Tilbury fan? Do you have plans for Valentine's Day? x